---
News
Whippet C-ATCH Wyatt of Dodge City, AV, CD, RAE, SC, NA, NAJ, ECC, S-EJS, EAC, TG-E, S-TN-E, WV-E, HP-E, CGC "Wyatt"
Whippet AWC Triathlon Winner HIT C-ATCH Ch Seaspell's Concord Point, CAVX, CD, SC, OA, OAJ, RE, CRX, OTR, OCC, S-OJC, EJS, O-OAC, TG-O, S-TN-O, WV-O, HP-N CGC "Patriot"
---
11/27/2010 Patriot earned his Rally Excellent title with a 4th place. Wyatt earned first in Rally Excellent B. Patriot's son Dash earned his second major and now has 11 points.
10/31/2010 Wyatt and Patriot had a great weekend doing NADAC agility. We had a slow start Saturday with the boys at Play-Bow NADAC agility in New Paltz but rocked the end of the day with 5 straight qualifying runs in Jumpers, Hoopers, and Tunnelers, all firsts except 1 second. On Sunday, we had another great day with Wyatt and Patriot. Wyatt and I were one of 2 qualifying runs in Elite Chances and earned our 5th Elite Chances Q. 8 more to go for the MEDAL. Wyatt also had the fastest Tunnelers time of all dogs in Elite Tunnelers and qualified in Weavers. He had an awesome weekend. So much fun to run this dog. What a blessing! Photos
7/15/2010 Wyatt finished his NATCH requirements in regular and also earned his Elite Hoopers title. Photos
6/20/2010 Wyatt earned his NADAC Elite Jumpers Superior title.
2/15/2009 Patriot earned a Hit in Trial at an all breed obedience trial.
10/18/2009 Wyatt earned his NADAC Elite Chances title. Photos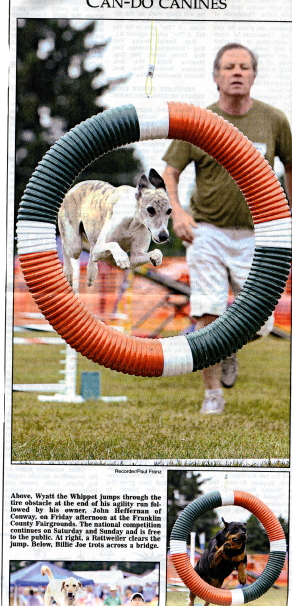 John and Wyatt in the Greenfield Recorder competing at the CPE Nationals. Headline is Can-Do Canines. Text is Above: Wyatt the Whippet jumps through the tire obstacle at the end of his agilityrun followed by his owner, John Heffernan of Conway, on Friday afternoon at the Franklin County Fairgrounds. The national competition continues on Saturday and Sunday and is free to the public.
---
April 2009 Photos from the AWC National Specialty
AWC National 2009
Patriot
4th Place Triathlon
5th place triathlon conformation
4th place Novice B obedience – 30+ dogs, score of 192.5
4th place Versatlity Competition
2nd place Versatility Conformation
2nd place Brace
Rally Advanced – 96 and a Q
Open Std Agilty – 1st and a Q
High score – non-regular class with agility title
High score – regular obedience class with LC title
High score champion in a regular obedience class
High score – non-regular obedience class with agility title
Champion Award of Versatility Excellent
Wyatt
2nd – Rally Advanced B, score of 99
Rally Excellent B – Q and a score of 96
2nd Brace
1st Novice Preferred Fast Agility
Q - Novice Preferred JWW 3rd Place
Q – Novice Preferred Standard 3rd Place
High score – non-regular obedience class with agility title
Parade of Rescues
Parade of Honors - #1 NADAC agility whippet 2009
---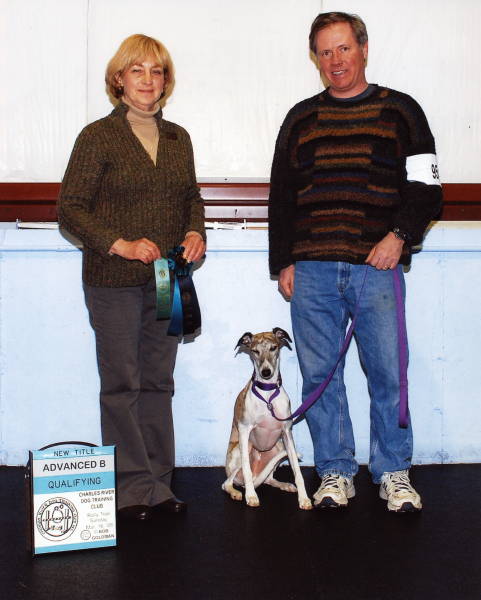 Above: Wyatt and John earn their AKC Rally Advanced Excellent title - March 2008. Wyatt became the 6th whippet ever to earn the Rally Advanced Excellent title. 3/16/2008
---
March 14, 2009
Patriot and I earned a 2nd place with a score of 190 in a large Novice B class of 20-30 dogs. Patriot also earned highest scoring dog with an LC title. Win Photo
Wyatt and I are still trying for out first CDX leg. We are having some fine runs but just missing one little thing. Seems like he is spacing our briefly and missing the initial command. This time, it was on the retrieve on flat, something he has never done before! Click here for a video.
---
Design of Multisport Dog Competitions (PDF)
Agility Video - NADAC Jumpers and Hoopers - June 4, 2008
Agility Video - NADAC Tunnelers and Jumpers - May 4, 2008
Winter 2008 Photos - Dogs, Aidan, John, and Dawn
Wyatt and Patriot Rally Video - Wyatt got a 99 and a 97 at this trial.
Wyatt Earns His C-ATCH (Story)
Wyatt earns his C-ATCH (Photo)
Wyatt Snooker Run (YouTube Video)
Wyatt CPE Jumpers Run (YouTube Video)
Debunking the Dominance Myth (PDF)
NEWC Meet and other Casuals - July/August 2007
CPE National Agility Photos - From Nova Scotia - July 2007
June Baby and Dog Photos - Some photos of Aidan and the dogs playing outside.
Wyatt NADAC Elite Regular Run - May 7, 2007. Wyatt qualified and got second place but, best of all, seemed to have recovered from his back injury.
Patriot and Puppies - some photos of Patriot and his get Major, Willow, and Dash at one year old.
Wyatt Rally Video - Here is a video of Wyatt doing rally. He earned his RE recently and is going for his RAE. In Springfield in April, he earned 2 double Q's scoring 93, 94, 96, and 97 with one fourth place. Nice going, Wyatt.
Patriot Earns His Agility Championship On February 5, Patriot earned his CPE agility championship. Dawn and Patriot worked for many years on this, forming a close and motivated team. Patriot earned about 90 qualifying runs, placing in most of them, to earn his championship.
Aidan Photos with some of Patriot and Aidan
Patriot and Dawn Agility Video
Big E Photos - Sunday
Big E Photos - Saturday
Puppy Photos - 6 Months
Coursing and Wyatt/Aidan Photos
Puppy Photos - 9 Weeks Old - Slippers x Patriot
Puppy Photos - 4 Weeks Old - Slippers x Patriot
Puppy Photos - 1 week old - Slippers x Patriot
Puppy Photos - 1 week old - Slippers x Patriot
---
April 25, 2006
Patriot Wins Triathlon and 3 New Titles
Patriot wins the American Whippet Club National Specialty Triathlon coming in first place over 21 other dogs. Dogs competed in lure coursing, agility, obedience, and conformation. Patriot also earned his CD, OA, and OAJ titles.
---
April 16, 2006
Wyatt completed his CPE level 3 title with a first place, clean standard run. Patriot completed his CPE level 4 strategy title. Also, Slippers appears to be pregnant so Patriot is going to be a father. Click here for more info.
---
March 28, 2006
Wyatt and Patriot have been competing in agility and obedience. They both now have 2 legs towards their CD. Patriot received 2 legs recently including a third place. Wyatt received one leg and a third place with an amazing performance and a score of 190.5! They are working steadily towards their CPE CATCH titles. Patriot recieved his novice regular NADAC title and Wyatt received his novice jumpers NADAC title.
---
January 21-22, 2006. Manchester, NH. CPE Agility Trial.
Wyatt received 5 (of a possible 7) qualifying runs including 1 first and 4 fourths. We completed his level 5 fun games title (fullhouse and jumpers) and recieved his first level C (champion) qualifying run. He had a super weekend with a big improvement on his contacts. Patriot received 5 (of a possible 7) qualifying runs including a first and a third.
---
January, 2006. Patriot ended up the year 36th nationally in AKC conformation. We are very proud of his standing especially since he was spending most of his time doing agility, obedience, coursing, and racing.